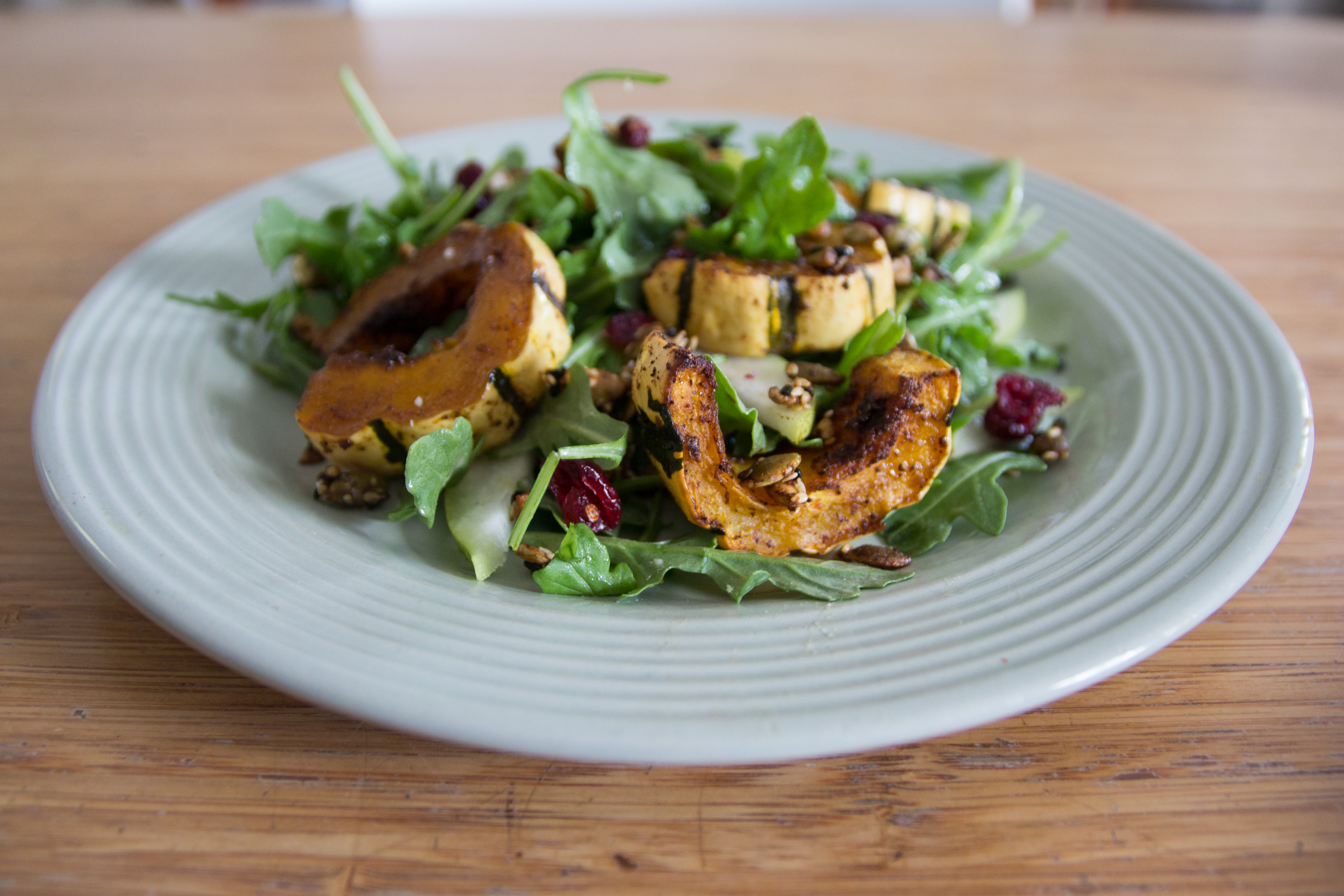 Spiced Roasted Delicata Squash With Arugula & Pear Salad.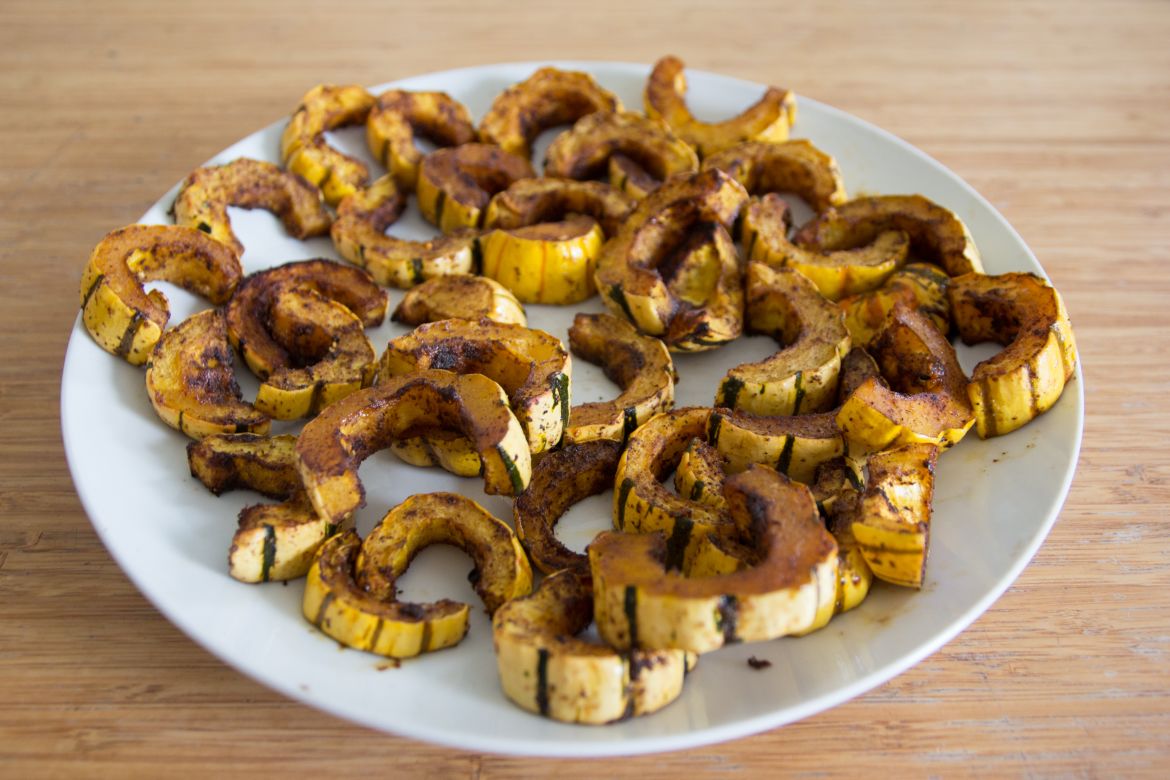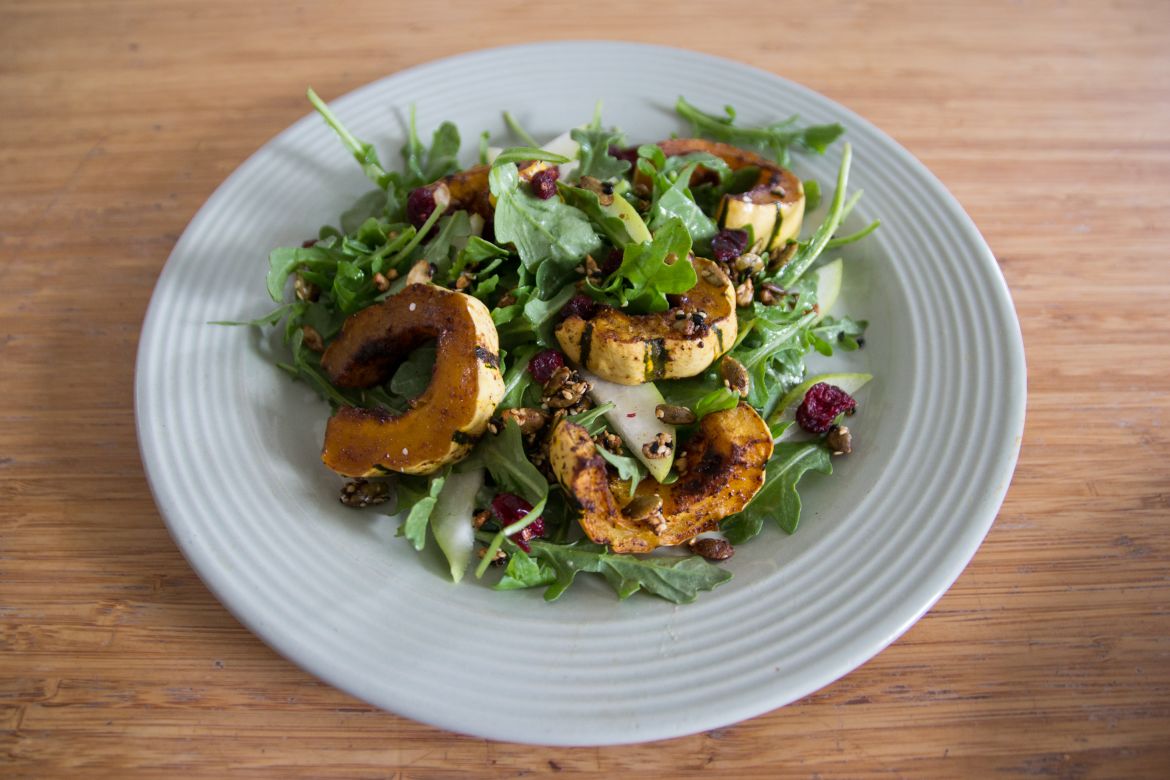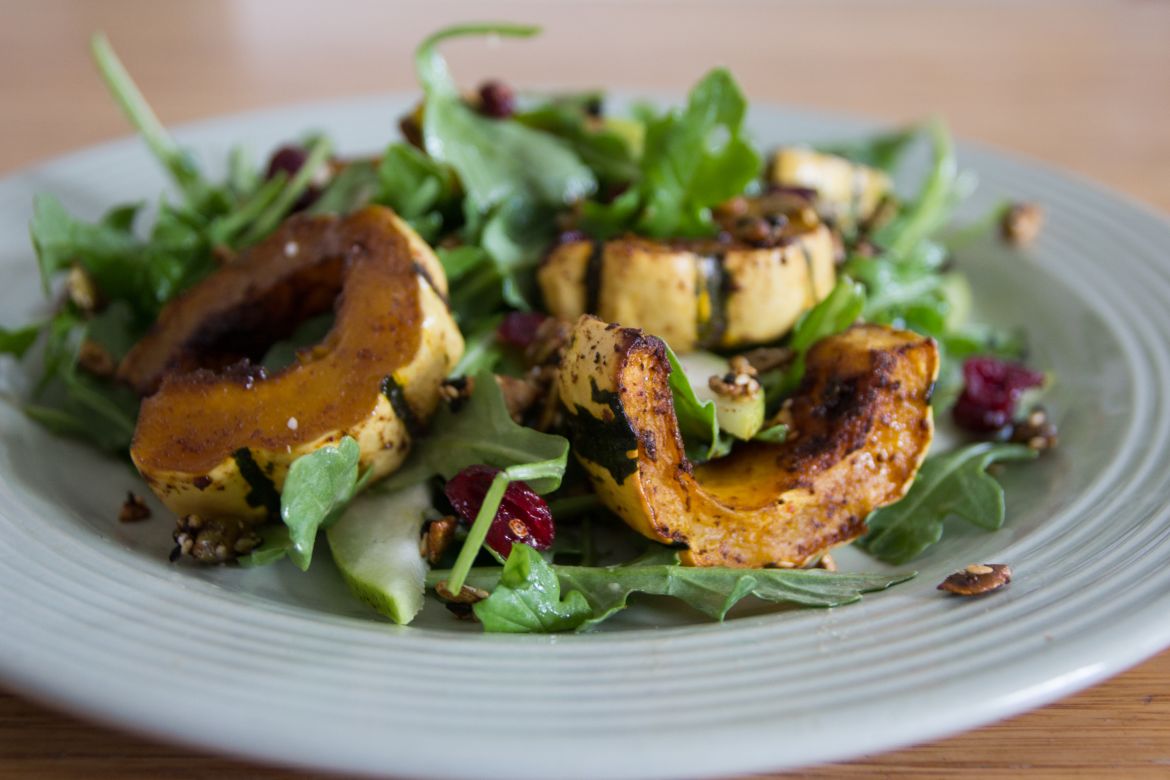 This simple roasted squash and arugula salad is satisfying and nourishing – one of my favourite fall dishes! Offering plenty of flavour, texture and nutrients like vitamins, minerals, fibre, and heart-healthy fats. The key is to season the sliced 'Delicata' (or use 'Sweet Dumpling' squash! with spices, and roast until tender – bringing out its natural sweetness, and nuttiness. Getting bites of juicy, slightly tart pear and pops of dried cranberries throughout the salad, makes for an interesting eating experience. Adding the crunchy sweet, salty, smoky topper – Spice & Seed – makes this salad tasty!
Ingredients:
8 cups of arugula
2 medium delicata squash – seeded and sliced into moons (no need to peel it!)
1 medium (slightly underripe) pear, sliced thinly
6 tbsp, Spice & Seed
1/4 cup dried cranberries
Squash Seasoning:
Chinese 5 spice powder, 1 tsp
Cumin, 1 tsp
Chili powder, 1 tsp
Salt to taste
Cracked black pepper to taste
Olive oil, 2 tbsp
Maple syrup, 2 tbsp
Tahini Lemon Garlic Miso Dressing:
Tahini, 1/4 cup
Lemon, juice from 1 small lemon
Apple cider vinegar, 1/4 cup
Olive oil, 4 tbsp
Garlic, 1-2 cloves – minced (if you are sensitive to raw garlic – add a little roasted garlic!)
White miso paste, 1 tbsp
Water, about 3 tbsp (to loosen the dressing slightly)
Mix the ingredients in a blender and set aside.
Instructions:
Heat the oven to 400. Make the squash seasoning by mixing the spices, olive oil, and maple syrup in a large bowl – and marinate the raw squash slices for a few minutes.
Layer the squash evenly on 1-2 baking sheet (depending how large your oven is!) and bake for 20-minutes. Flip the rounds over, for even browning, and roast for another 15-minutes – or until squash is golden, and tender!
Meanwhile, make your dressing and slice the pear. Set aside.
Once the squash is ready, let it cool slightly before building your salad. In a large mixing bowl, dress the arugula and pear. Toss and add to your plate. Place a few pieces of roasted squash, and sprinkle over the Spice & Seed topper, plus a handful of dried cranberries. ENJOY!
Nutrition Tips:
Winter squashes, including Delicata – are a source of vitamins A, C, K, B vitamins (especially folate), Potassium, and fiber.
Spice & Seed adds plant protein, heart-healthy fats, fiber, and essential vitamins & minerals (including calcium & iron) to any veggie-heavy meal!
Arugula is an extremely nutrient dense food! Providing Vitamins A, C, K, B-vitamins (namely folate), calcium, magnesium, iron, potassium, fiber.