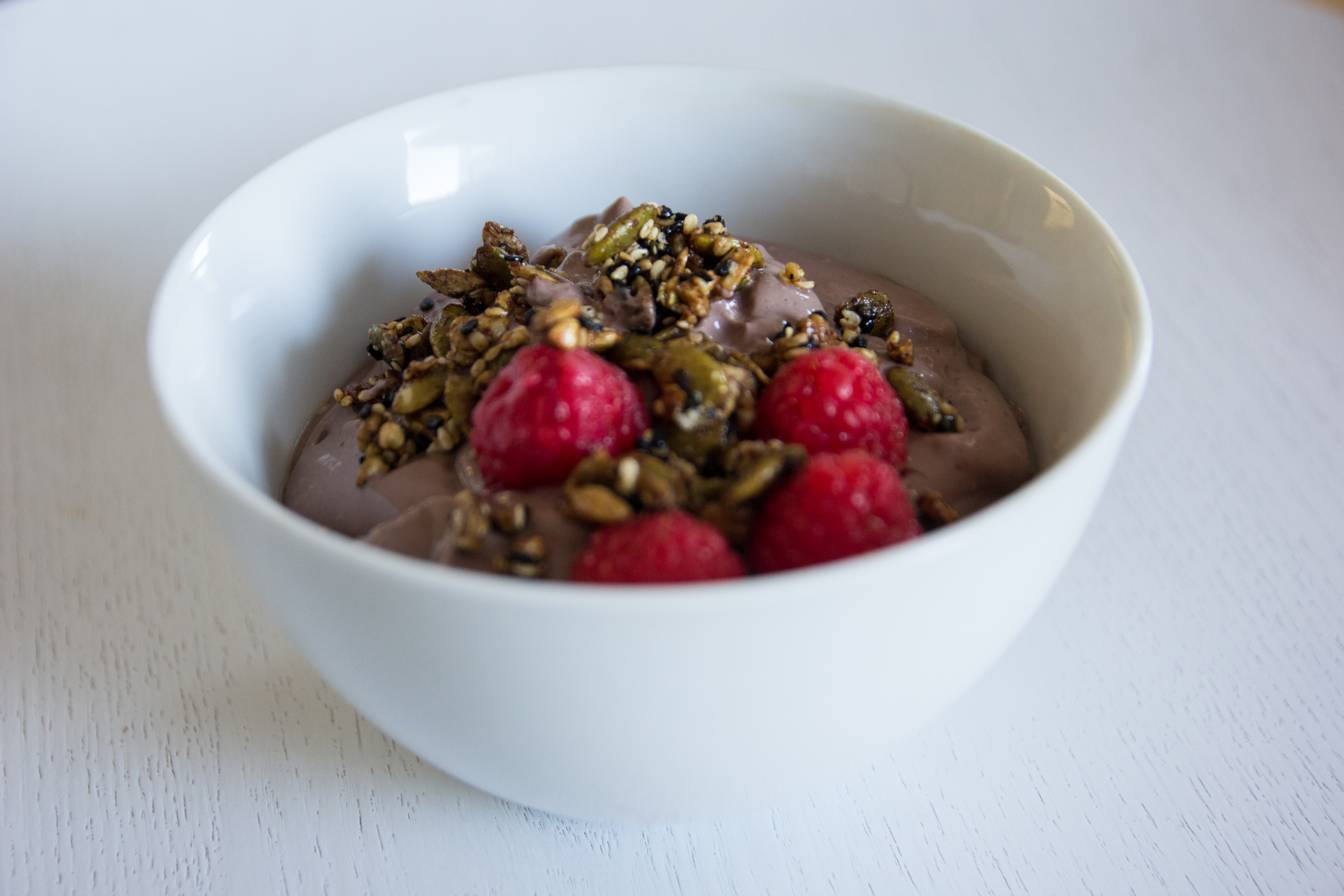 Silken Tofu Chocolate Pudding with Raspberries & Seeds.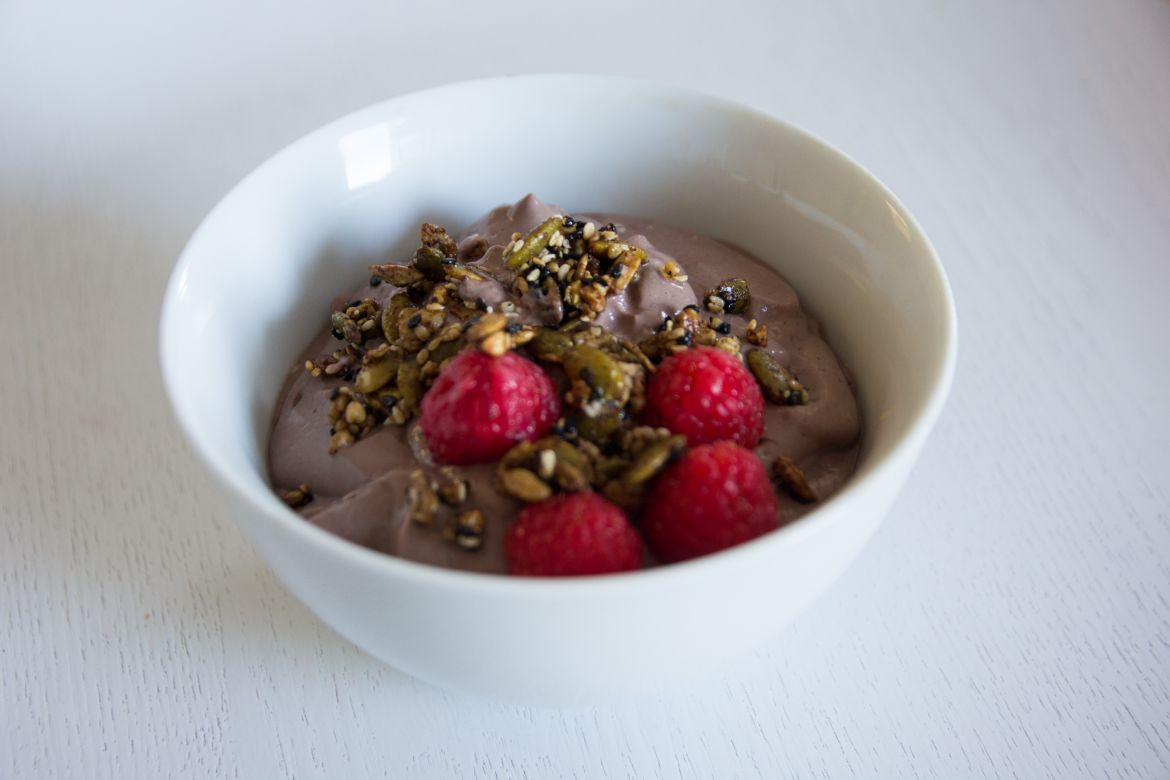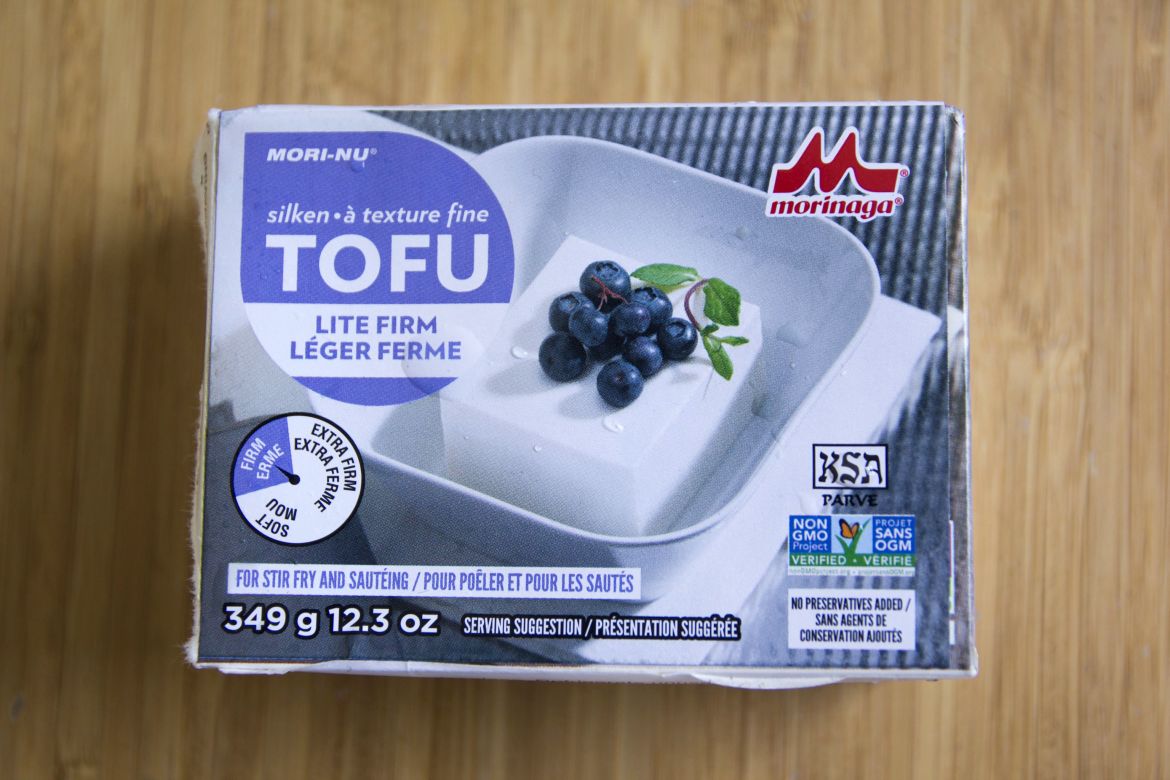 This creamy, and delicious protein-packed chocolate pudding is fantastic when you want a simple, satisfying healthy dessert. Silken tofu can be easily stored in your pantry, so there is no stress about it going bad. Getting good quality cacao powder makes all the difference in the recipe, as it masks the subtle taste of tofu, while adding most of the flavour to the dessert. Maple syrup is my go-to sweetener, being an unrefined lower-glycemic sweetener that blends beautifully with most ingredients. If you are looking for a nourishing high protein, lower fat dessert – this is a tasty combo that everyone (even kids!) will enjoy, regardless of whether or not they are a fan of tofu.
INGREDIENTS:
Firm Silken tofu, organic/gmo-free (plane), 1 box (makes 2 servings)
Maple syrup, 3 tbsp (taste and adjust to personal preference – I don't like it too sweet)
Dark Cacao powder, 4 tablespoons
Fresh raspberries or strawberries, handful
Toasted sesame seeds/mixed, 3 tablespoons (optional – for texture. Crunchy nuts work too!)
INSTRUCTIONS:
1. Blend the ingredients until smooth, using a food processor.
2. Chill the mixture in the fridge for at least 1-hour.
3. Enjoy with fresh raspberries or strawberries and toasted seeds or nuts.
NUTRITION TIPS:
Tofu is packed with protein, and is a source of potassium, magnesium, calcium, iron, and magnesium.
Concerned about health effects of soy? This article by Harvard School of Public Health is very informative.
Raspberries are rich in vitamin C, magnesium, fiber, and are a lower glycemic (less sugars) fruit.