Fig, Nut and Pomegranate Molasses Bars.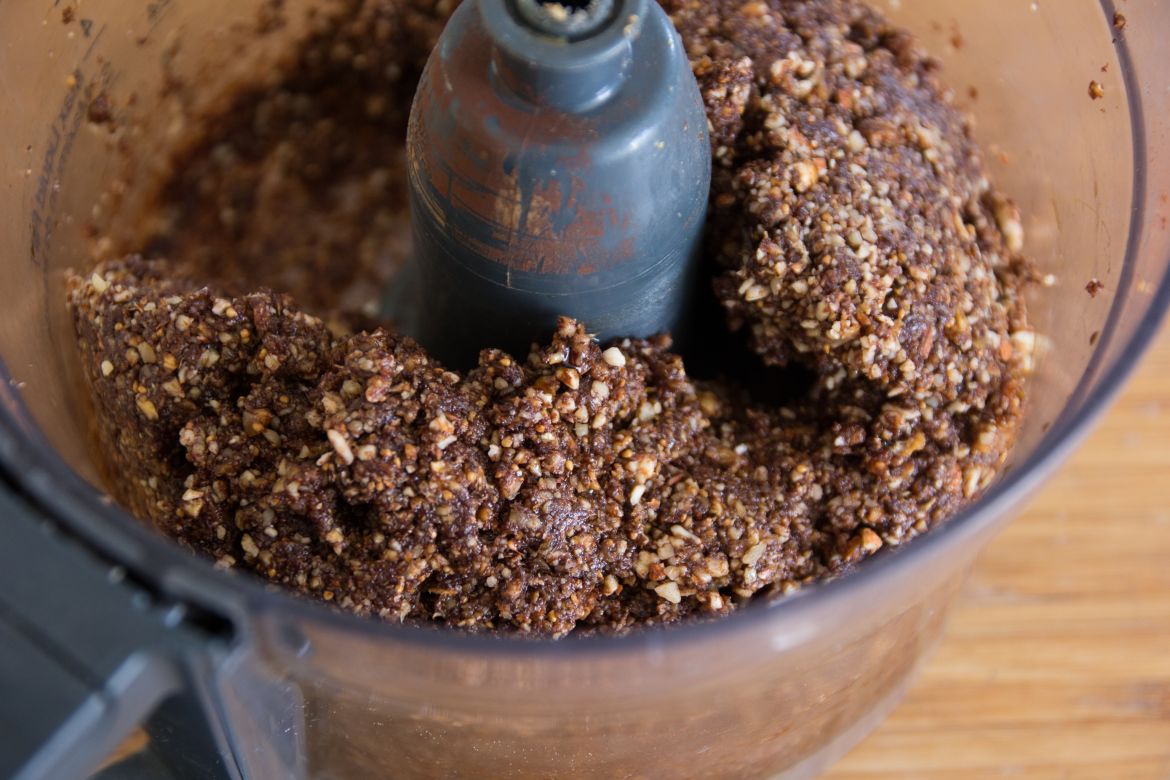 A different take on the classic energy bar I typically make, featuring mineral-rich dried figs instead of dates! This recipe also includes pomegranate molasses – adding a bright, slightly tart note. Delicious and nutritionally-balanced, these bars offer whole (unprocessed) plant-based protein from the almonds, and omega-fat rich walnuts. Composed of a few nourishing ingredients, enjoy these bars as a healthy alternative to most of the store-bought items on the market. They make for a sweet snack, pre/post workout energy bar (or during – if training for long periods), or as a satisfying dessert!

Ingredients: (Makes 10 bars)
2 cups dried figs, soaked in water to soften
1 cup raw almonds (replace with sunflower seeds if allergic to almonds)
1 cup walnuts (replace with rolled oats or toasted buckwheat groats if allergic to walnuts)
3 tbsp cacao powder
2 tbsp cinnamon
3 tbsp Pomegranate molasses (CEDAR or CORTAS are the brands I use! Often found at ethnic markets, speciality food shops, and in the sauce section at some supermarkets like P.A in Montreal)
Pinch of salt
Instructions:
In a food processor, pulse the soaked figs (minus water) and pomegranate molasses until it forms a chunky paste.
Add the almonds, walnuts, cacao, cinnamon and salt to the food processor – and mix until it all comes together.
Press the mix into a deep plastic-wrap lined cake pan, using your hands.
Place in the freezer for an hour to harden, before slicing into bars. Enjoy!
Keep the bars stored in the fridge or freezer.
Nutrition Tips:
– Dried figs are a source of calcium iron, magnesium, potassium, vitamin K, B vitamins, and fiber.
– Walnuts are rich in heart-healthy unsaturated fats including omega 3&6 fatty acids, protein, iron, calcium, potassium, magnesium, and fiber.
– Almonds also provide protein, heart-healthy unsaturated fats, magnesium, iron, calcium, and fiber.
– Pomegranate molasses has half the sugars of maple syrup, serving as a lower glycemic sweetening option for those managing sugar intake. It does have a strong flavour – so a little goes a long way!
For more inspo: Check out my seedy bar recipe, orange ginger bars, and peanut bars!