Edamame & Coriander Hummus. Different Take On A Classic Dip.
I used a high-powered Vitamix (for extra creaminess!) but if you don't have one – opt for a food processor, and scrape down the sides as you mix.
Top your edamame hummus with toasted sesame seeds or za'atar (Middle-eastern thyme/sesame spice)!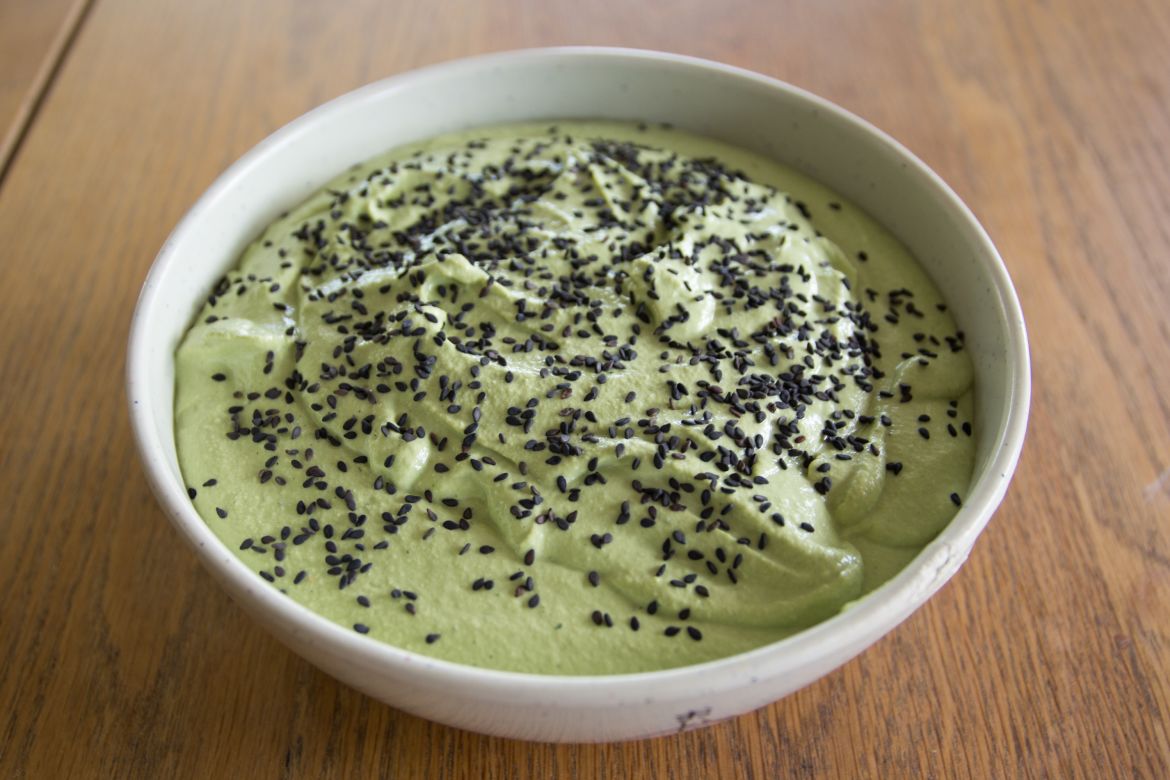 While regular chickpea hummus is always delicious and nutritious, this edamame rendition is a fun alternative! In fact, we can turn ANY legume into bean dip, using the same preperation method as hummus. By combining cooked beans, or peas with tahini, olive oil, lemon juice, garlic, salt and pepper. In this case, I jazzed up the recipe by adding fresh coriander! However, you can always add another herb of choice, like parsley or dill. Enjoy this spring green protein-packed, fiber-rich hummus with raw or grilled veggies, or as a spread – on toast or sandwiches. Do consider making enough to have throughout the week, and freeze for future uses (yes you can freeze it!).
Ingredients:  
(Makes a large batch!)
4 cups shelled organic (GMO-free) edamame
1 cup fresh chopped coriander
2 lemons, juiced
1 cup olive oil
1 cup tahini
3 cloves of garlic – minced
1 tsp maple syrup (Balances out the flavours, but won't make the dip sweet I promise!)
1 tsp chili powder or hot sauce to taste
1 tbsp white miso paste (Not seen in the ingredients photo above but I added later! Worth it.)
Salt to taste
Water to loosen until desired consistency (add a little bit of water at a time while blending)
Top with dry-toasted sesame seeds or za'atar as garnish! (Optional but pretty)
Instructions:
Defrost the edamame and steam the shelled beans for 3-4 minutes in salted water. Drain and let it cool.
In a food processor (or vitamix), pulse the edamame, chopped coriander, tahini, olive oil, white miso paste, lemon juice, maple, garlic, salt, pepper, and chili powder. Pulse until creamy. Add water to loosen until desired consistency.
Top the hummus with toasted sesame seeds or za'atar and enjoy!
Nutrition Tips:
Edamame is rich in protein, fiber, vitamin K, B vitamins (including folate), iron, calcium, magnesium, and potassium. One serving (1/2 cup) provides 9 grams of protein! A sufficient amount of protein to have in one of your daily meals, for the average person. Do ensure to purchase organic edamame, as soy beans are a commonly genetically modified crop.
Tahini is rich in vitamins Vitamins, Calcium, Iron, Magnesium, Potassium, Manganese, Zinc, anti-inflammatory Omega fatty acids, and heart-healthy monounsaturated fats, plus protein, and fiber.
Check out my Eat & Enjoy video recipe featuring Butter Bean hummus – HERE!