Cauliflower 'Couscous' Salad with Herbs, Pomegranate & Walnuts.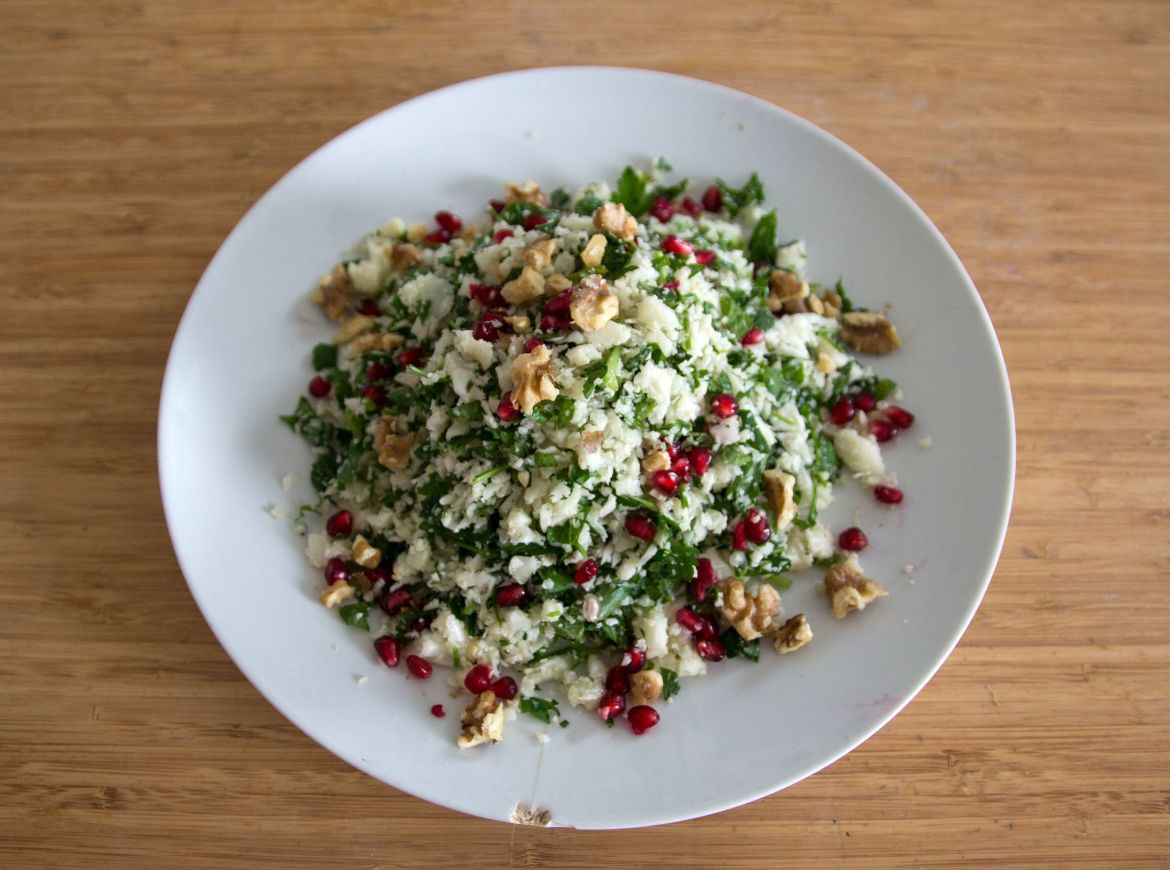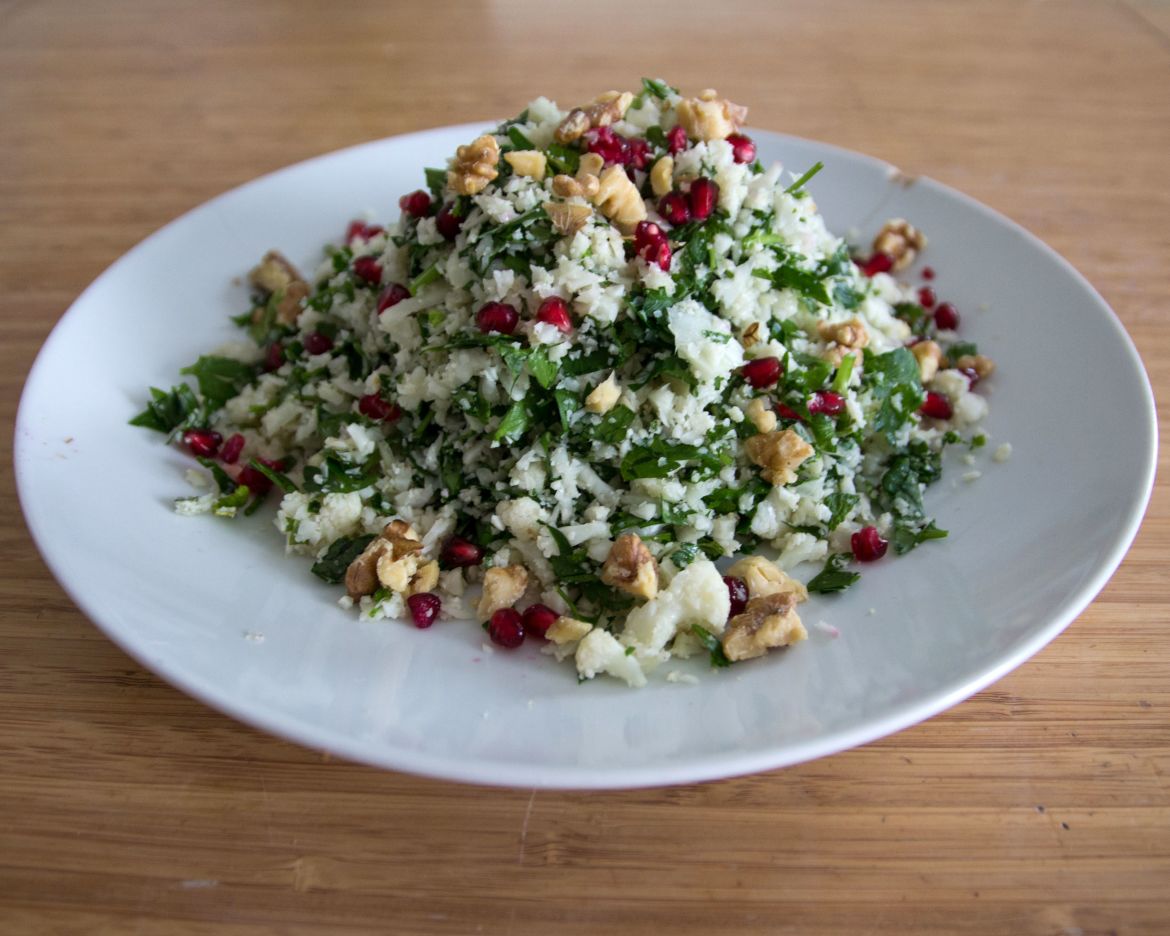 Cauliflower is a wonderfully versatile vegetable that serves as a nutritious, and lower glycemic (less starch/sugars) alternative to couscous aka pasta. Breaking down the cauliflower into smaller pieces, using a food processor, and sautéing it until tender – provides a mouth-feel that is similar to couscous, while offering more vitamins, minerals, antioxidants, fiber and flavor! This side dish can easily be turned into a complete meal, by adding a source of protein – like lentils, or organic (GMO-free) edamame beans!
Ingredients:
– Cauliflower, 1 large
– Pomegranate, 1 small
– Flat-leaf parsley, 1 small head
– Fresh Mint, 2 sprigs
– Walnuts, 1/4 cup
– Salt & cracked black pepper
Dressing:
– Apple cider vinegar (or fresh lemon juice), 1/4 cup
– Olive oil, 4 tbsp
– Maple syrup, 2 tbsp
– Braggs aminos (low sodium soy sauce), 2 tbsp
– Miso, 1 heaping tbsp
– Cumin, 2 tsp
– Cracked black pepper
Mix the dressing ingredients in a blender. Taste and adjust the seasonings to meet your preferences. I enjoy more 'acid' (vinegar) in my dressings, but if it's too strong for you – add more olive oil!
Instructions:
Using a large knife, roughly chop the cauliflower into even size florets. Add a few handfuls of cauliflower to your food processor, and pulse. Tip: Overcrowding the food processor will not allow the florets to break down evenly.
In a large skillet, sauté the cauliflower 'couscous' in small batches over medium/high heat – for 6-7 minutes. Let the 'couscous' cool on a tray or large plate, allowing the steam to evaporate – stopping the cooking process.
Toast the walnuts in a dry skillet, over medium-high heat, until crispy and aromatic. Let them cool before roughly chopping them into smaller pieces. Set aside.
Slice the pomegranate in half, and break it over a large bowl. Scoop out the seeds out with your hands, and run cold water over them, allowing the white membrane to float up – and be removed more easily.
Roughly chop the parsley, and carefully tear the delicate mint leaves – to prevent them from bruising/browning.
Time to serve! Mix the cooled 'couscous' with parsley, mint, and pomegranate seeds in a large bowl. Plate up and top the salad with chopped walnuts, and a drizzle of dressing. ENJOY!
Notes:
I highly recommend using a food processor, but you can also grate the cauliflower by hand, or chop it with a knife.
Prep a whole head of cauliflower, to enjoy in a variety of meals throughout the week!
Allergic to nuts? Use toasted pumpkin seeds instead of walnuts!
Nutrition Tips:
Cauliflower provides vitamins C, K, B vitamins, potassium and fiber. Like all cruciferous vegetables (ex: broccoli, cabbage, bok choy etc.), cauliflower contains glucosinolates antioxidants, which have anti-cancer benefits.
Pomegranate seeds are a good source of vitamin C, B vitamins, magnesium, iron, potassium, zinc, and fiber.
Parsley is packed with vitamins, A, C, K, B vitamins, iron, magnesium, potassium, and fiber.
Walnuts are rich in protein, heart-healthy unsaturated fats – including omega fatty acids, fiber, B vitamins, iron, calcium, magnesium, selenium, potassium, and zinc.