Swiss Chard Salad with Apple, Radicchio, Seeds, Chickpeas & Currants.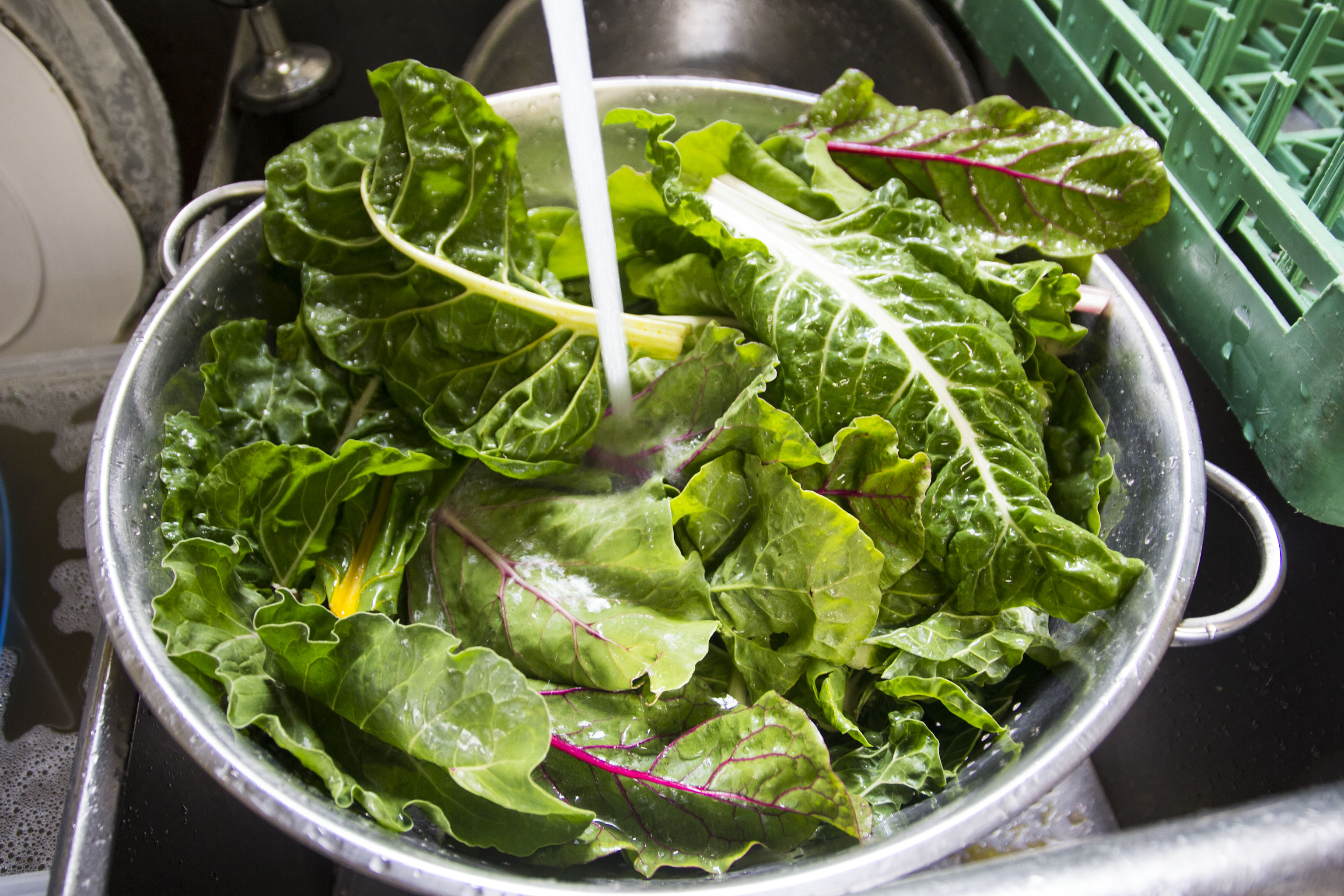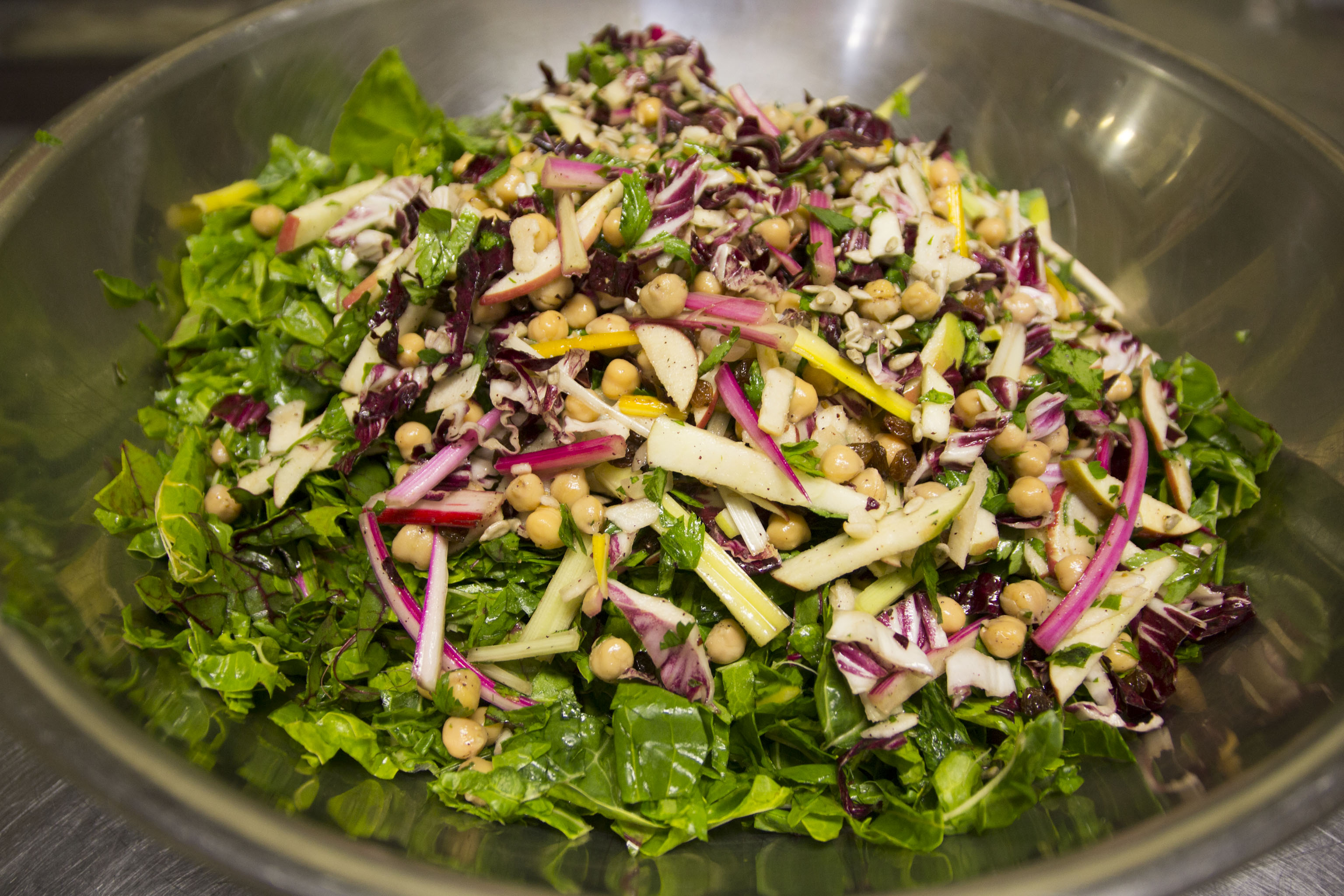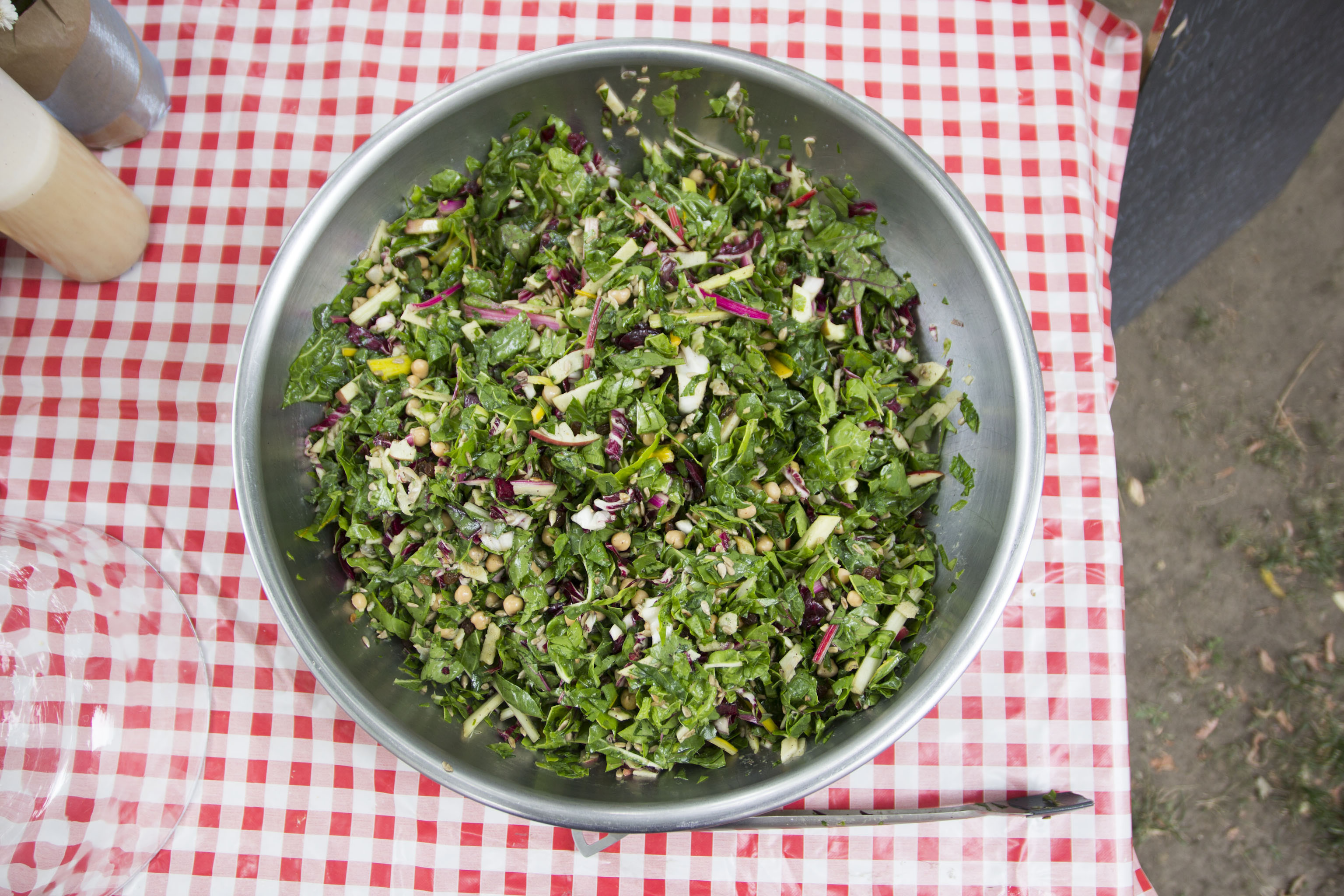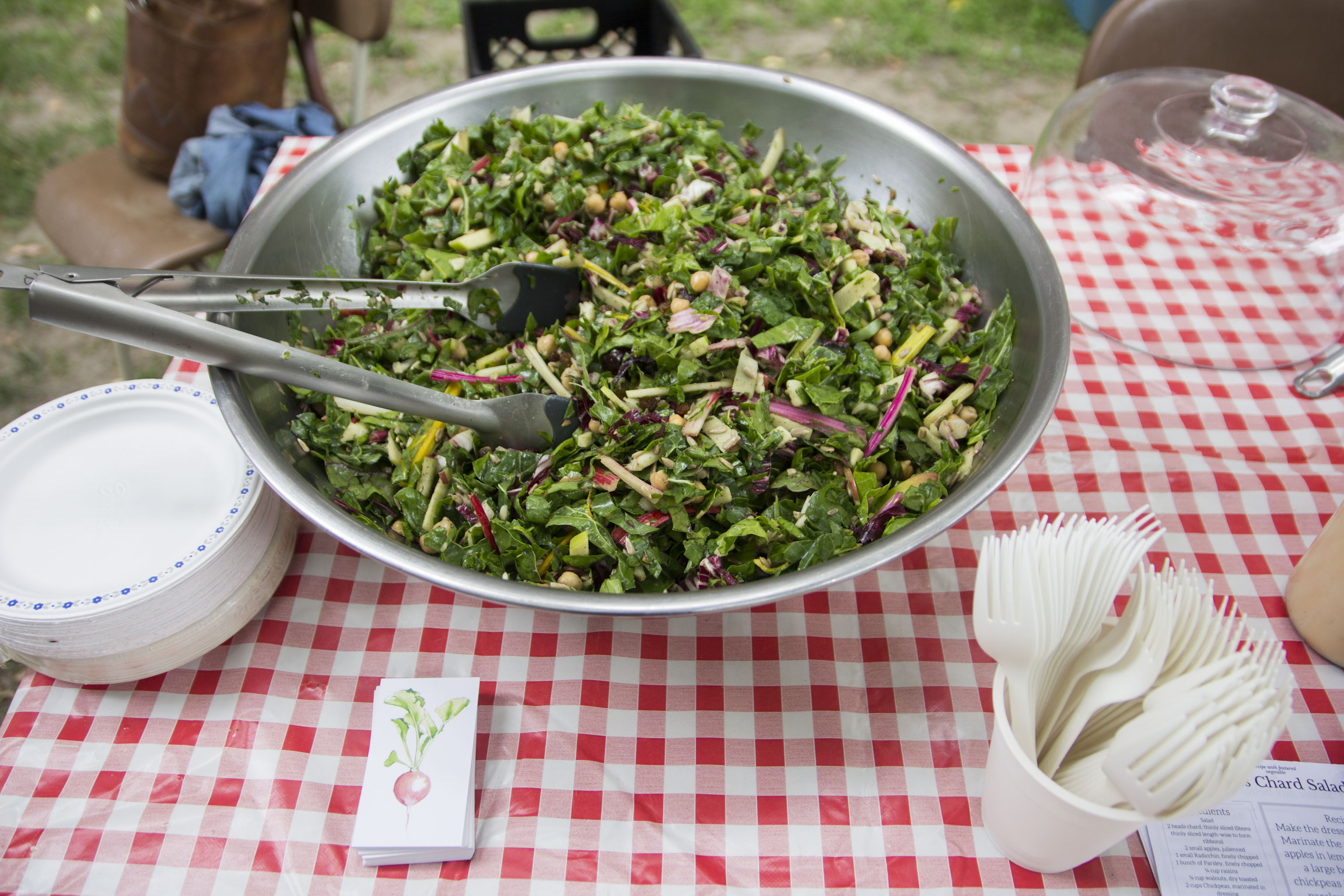 Use any mix of fresh swiss chard you can find, Rainbow Chard is especially beautiful! Marinate the chickpeas with the chopped radicchio and parsley. Add the chopped apple, swiss chard stems, toasted sunflower seeds, currants and dress the salad lightly to serve. ENJOY!
This fresh and satisfying complete-meal salad makes a great picnic dish, or healthy addition to your summer BBQ! Celebrating one of my fave leafy greens, Swiss Chard! using both the leaves and delicious stems – which are often unnecessarily thrown out. The slightly bitter, sweet, earthy and tender leaves make for a tasty and nutritious salad base, as an alternative to your usual suspects (kale/romaine/arugula). Combining the bitter chard and radicchio, with the sweet apple, currants, and maple dressing – helps to balance the flavor of this dish. Adding crunchy dry toasted sunflower seeds offers a texture and nutty taste – a completely different food compared to raw sunflower seeds. They also provide a serving of protein and healthy unsaturated fats, along with the chickpeas – another good source of plant-based protein!
Salad ingredients:

• 2 heads of Swiss chard, stems and leaves chopped finely
• 2 small gala Apples, chopped into match sticks (or other apple of choice)
• 1 small head of Radicchio, finely chopped
• 1 small bunch of Parsley, finely chopped
• ¼ cup raisins or currants
• ¼ cup sunflower seeds, dry toasted
• 2 cups cooked Chickpeas, marinated in dressing (see below)
Dressing/Chickpea Marinade ingredients:

• 2 fresh lemons, juiced
• 2 fresh oranges, juiced
• 1/4 cup olive oil
• 3 tbsp maple syrup
• 2-3 cloves fresh garlic
• 1 tbsp Dijon
• 2 tsp Sumac
• 2 tsp Cumin
• Salt and pepper to taste
Instructions:
1. Make the dressing/chickpea marinade and get the cooked chickpeas (canned/rinsed is fine!) marinating
3. Toast the sunflower seeds until golden and aromatic, set aside to cool
4. Chop the apples into matchstick, set aside and coat in fresh lemon juice to prevent them browning
5. Prep the swiss chard by cutting off the stems and julienne slicing (into thin strips lengthwise) then chop the leaves into thin ribbons – so that both parts are a similar size – making it easier to eat together!
6. Finely chop the radicchio to be  a similar size as the swiss chard
7. Roughly chop the flat leaf parsley
8. In a large bowl, add the chard leaves and stems, marinated chickpeas, parsley, radicchio, apples, and currants (or raisins) and toss together. Spoon over a little dressing, just enough to coat everything. Sprinkle over the toasted sunflower seeds and enjoy!
Nutrition Tips:

– Swiss chard is an amazing source of vitamins A, C, K, iron, calcium, and magnesium.
-Chickpeas are a source of B vitamins, vitamin K, iron, calcium, magnesium, potassium, zinc, fiber and protein. A half cup (which is a single serving) contains about 8 grams of protein.
Note:  If you don't enjoy or digest chickpeas well, feel free to use another legume in replacement!
-Sunflower seeds are packed with protein, 1/4 cup or 80 grams (one serving) has about 8 grams of protein. With the chickpea serving, a large plate of this salad provides about 16 grams of protein, which is sufficient for one 3 main plant-based meals a day.
DL TIP: Make sure to prep enough for lunch next day –  using your time in the kitchen efficiently!