Summer Peach, Ginger & Lemon Tart. A Healthy Raw Dessert.
Ingredients: Raw almonds, pitted dates soaked in camomile tea, cacao, cinnamon, lemon zest, ginger, fresh peaches (not seen here but pinch of sea salt was added to the crust).
Rehydrate dates in steeped camomile tea for 15-20 minutes.
In your food processor, pulse the almonds, cacao, cinnamon and salt – until it form a textured crumb. Set aside.
To the food processor, pulse the soaked dates, grated ginger, and lemon zest – until it forms a chunky paste. Add the almond mix back to the food processor – and pulse until everything binds together. Press this 'dough' into a plastic lined tart pan, and place in the freezer. TIP: Buy BPA-free saran wrap – thankfully it is easy to find these days!
Slice the peaches on a mandoline, and coat the slices with lemon juice to prevent them from oxidizing/browning.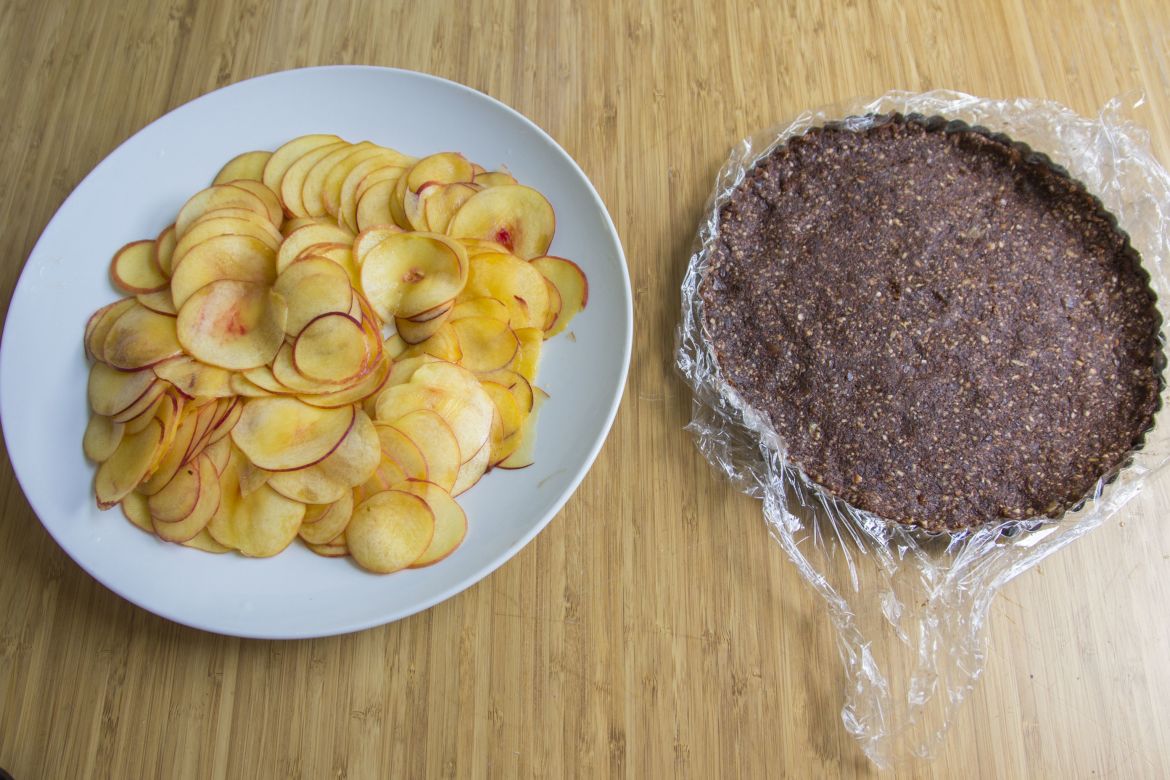 Remove the tart base from the freezer, and lay over the peach slices.
Layer the peach slices around the tart base. Using a microplane, zest over some lemon – enhancing the peach flavour and offering a burst of freshness.
Enjoy!
Ontario peaches are now in season, which means I am taking full advantage – and using them in multiple ways! Like this raw tart. They are also delicious grilled, or shaved in salads. This simple, nutritious and delicious dessert is quick and easy to prepare. Yet it requires 2 essential kitchen tools – a food processor and a mandoline. Both handy for plant-based healthy cooking in general!
Ingredients:
Almonds, 2 cups
Dates, 2 cups (soaked in camomile tea or simply water!)
Camomile, 2 bags
Lemons, 2
Ginger, 1 knob
Peaches, 3-4
Cacao powder, 2 tbsp
Cinnamon, 1-2 tbsp (depending on much cinmamon you like!)
Salt, small pinch
Instructions:
In a food processor, mix the almonds, cacao, cinnamon, and salt – until it forms a chunky crumb. Set aside in a large mixing bowl
In the food processor, pulse the soaked dates, zest from 1 lemon, and ginger – until it forms a paste.
Add the dry almond mix back into the food processor, with the date mix – and pulse until it comes together.
Press this dough into a lined tart pan, and let it set in the freezer while you slice the peaches.
Using a mandoline, thinly slice the peaches. Coat them lightly with lemon juice.
Remove the tart base from the freezer, and lay the peach slices around crust. Zest over a little lemon. Put the tart back in the freezer, to let it set/chill for at least 2-hours. Enjoy!
Nutrition Tips:
– Peaches are a good source of vitamin's C and A, potassium, and fiber. They pair well with almonds, hazelnuts, walnuts, pecans, basil, mint, berries, lemon, lime, orange, cinnamon, clove, ginger and vanilla.
– The crust of this tart is made with plant-based protein and healthy fat-rich almonds (Unpasteurized European natural almonds not Californian almonds – learn more here), and naturally sweet pitted dates, with no added sugars or oils.
– If you are allergic to nuts, you can use a combination of sunflower seeds and whole oats instead – ground up using a food processor, the same as seen here with almonds. As one of the most heavily sprayed foods, it is very important to wash peaches very well, and purchase organic when possible.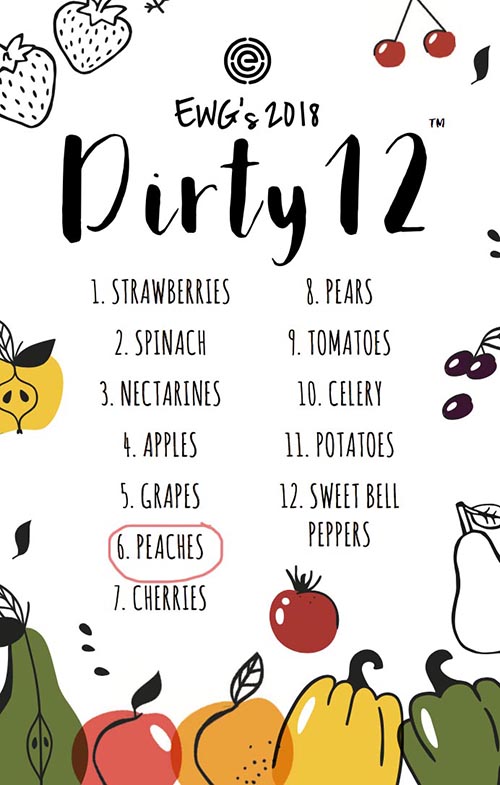 Learn more about choosing chemical-free produce here!