Grilled Asparagus, Radish, Scallion, Arugula & Sesame Salad.
Ingredients: Asparagus, scallions, yellow cherry tomatoes, fresh mint, baby arugula, radishes, black sesame seed.
Dressing ingredients: Lemon juice, olive oil, maple syrup, salt a freshly cracker pepper.
Combine the the juice of one lemon with 2 tbsp of olive oil, couple drops of maple syrup, salt and cracked black pepper. Whisk and set aside.
Cut off the bottom of the asparagus or snap where the stalks are tender.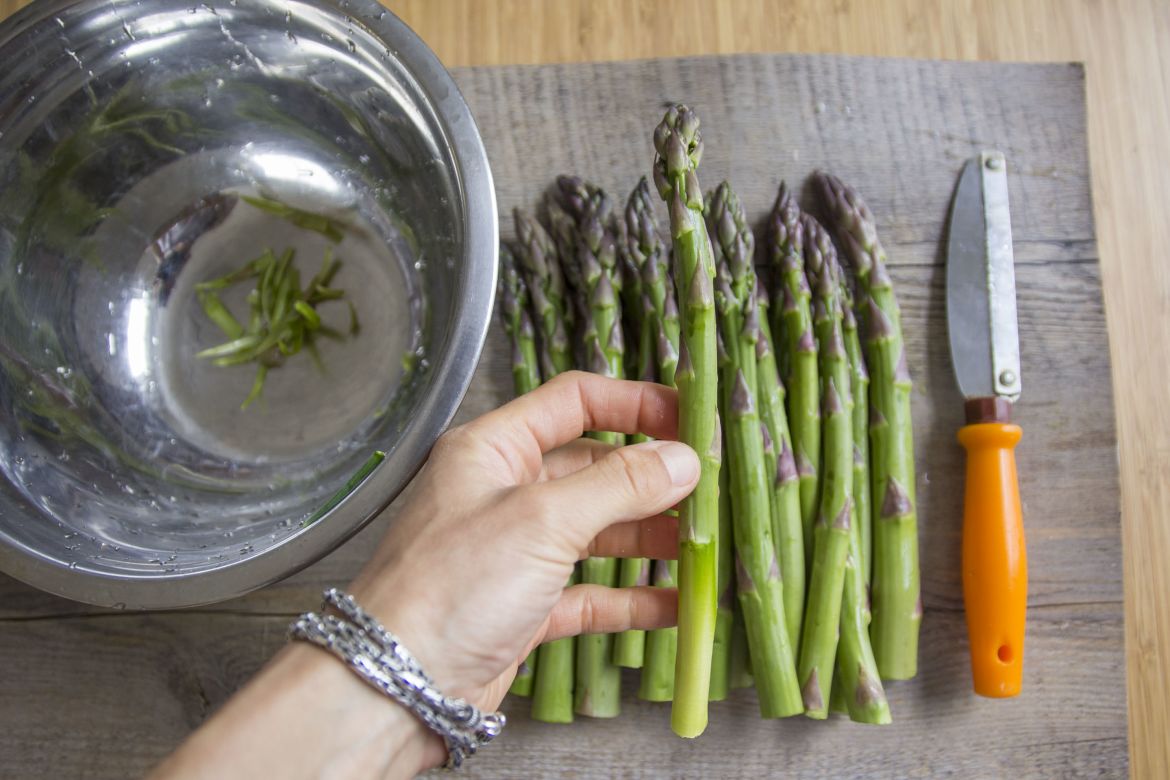 Using a peeler, shave the bottom of the asparagus stalks, which can be stringy and unpleasant to eat.
Grill the asparagus for about 3 minutes on each side, until the stalks develop roasted marks and the stalks are tender. Season with salt and pepper. If you have an outdoor BBQ rather than grill pan, feel free to use this!
Grill the scallions in the same way, and set aside.
Grill the radishes for a couple of minutes until they are slightly tender, season with salt and set aside.
Sprinkle over toasted black sesame seeds onto all the veggies.
Shave a scallion and asparagus stalk raw to make a refreshing mini salad, using lemon and pinch of salt.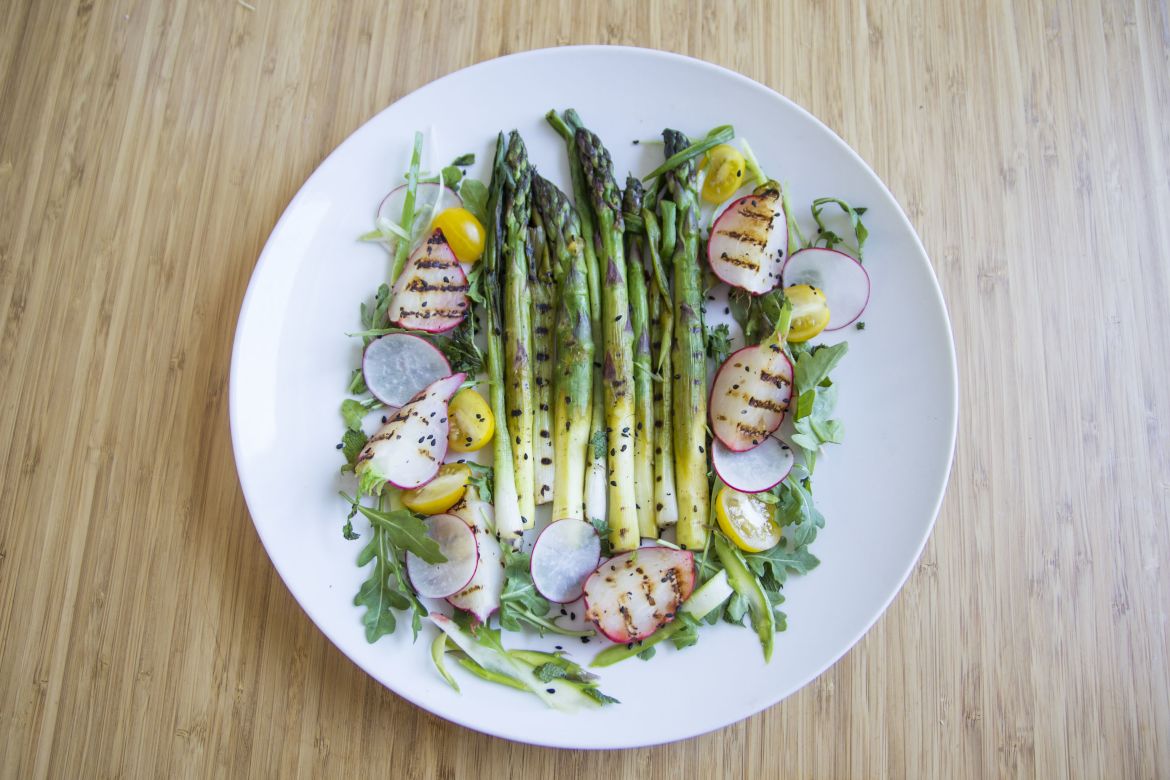 Plate up the grilled vegetables, and toss over the raw asparagus/scallion salad, with a handful of baby arugula and chopped cherry tomatoes. I used whatever veggies I had on hand, so feel free to mix it up!
This simple, grilled asparagus salad is quick and easy to prepare, offering plenty of vitamins, minerals and antioxidants. Lightly grilling asparagus brings out its natural sweetness, and allows it's tender yet toothsome texture to remain in tact. Radishes are usually served raw, but are fantastic when roasted, braised, or grilled. The sharp 'spiciness' of radish dulls when cooked, and the inherent sweetness of this beautiful vegetable is released. Try adding asparagus and radishes to your BBQ vegetable medley for a wonderful mix of tastes and textures!
– Asparagus is a great source of vitamin A, Vitamin C, Vitamin K, B vitamins, potassium, selenium, and iron.
– Radish is high in vitamin C, and contains some iron, calcium, and potassium.
– Scallions, being an allium vegetable, has anti-cancer antioxidants, and are a source of Vitamin A, vitamin C, iron, calcium, potassium, and magnesium.
– Sesame seeds are packed with iron, calcium, protein, magnesium, potassium, selenium, B vitamins, fiber, good fats (monounsaturated & polyunsaturated fats) and essential fatty acids (omega 3 &6).